The best part of college is the time we spend outside the class. We see the world in a few hours of outing beyond the seminary walls, whether it is a bunk or after class plans. People definitely make places better, and undeniably, friends make them heaven. It is just a bliss to be part of a gang, whether it is of three (3) or ten (10). Secret parties and exploring places are the memories we behold beyond time. Our bonds strengthen outside four walls and we come close travelling distances.
These outings have a common and interesting type of friends and their behaviours. You will certainly relate to the following people, whom you have witnessed on your outings. These are your friends who behave like crazy creatures. If you are in college, you are spending time with them and if you are working, you are going to miss them.
1. Planner
'Zindagi jhand hogayi, bahar chalte hai yaar.'
Yes. This is you. Ah, maybe your friend who is ever ready with plans. Without their initiation, you might be just sitting on the wooden benches staring at the empty blackboard. If you are a boring person, they are your only saviours. They know the best and cheapest places to go out. In short, they are your google maps taking you to best places. By the way, they even know the address of the places, which google maps are searching.
Also Read | 12 Things To Do With Friends Because You Only Live Once
2. Vehicle provider – Driving enthusiast
Every gang has a group of bikes to accommodate everyone. It is all cool until every person can occupy one; but when you have fewer bikes and more people, then comes the car. S/He will come in his/her vehicle and fill in people akin to a bus. The best part is he/she does not get to drive and not every enthusiast will get to drive. This unofficial ZoomCar has interesting specifications, only close friend can drive. There is this designated best friend of him/her who love cars; and is the only one allowed to touch the steering.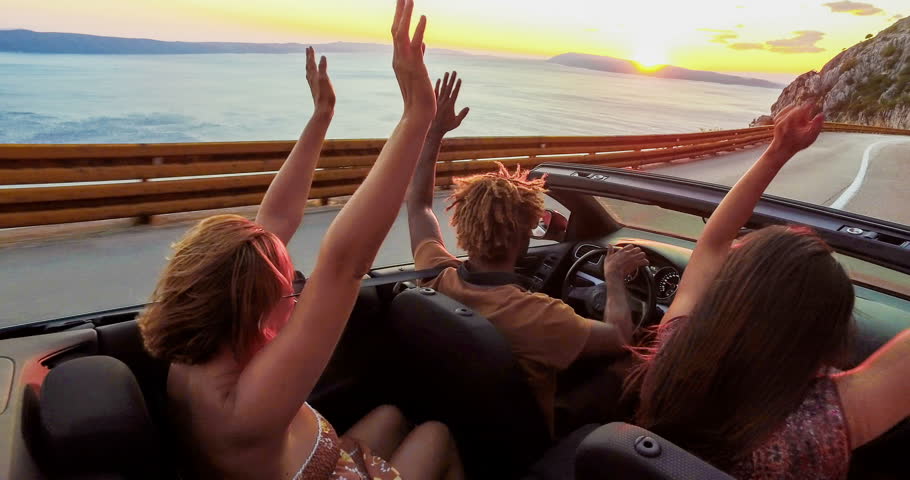 3. Scared birds
These are the first ones to say 'no' and last ones to 'come'. These scared birds have a lot of restrictions and tend to overthink. 'Log kya kahenge?' , parent's blackmailing glares, yet they get loose with the help of their mischievous friends. When they are out, they are always on the lookout, worried; but they are the ones who enjoy most at the end.
4. Photographers
While everyone is living there moments, there is that one person clicking. If it is pre-planned, then s/he is a DSLR holder, otherwise, his/her phone gallery is filled forever with people and sceneries. He is the one who everyone turns to, in the end, to collect pics of the day. Our own Farhan Qureshi is definitely an important part of the three (3) or more idiot gang.
5. Posers/Selfie-lovers and Social Butterflies
There are friends who love posing and all they do during an outing is to click themselves a portfolio in every corner. Another set of clicks you observe during outing are selfie-lovers. They are entertaining at the beginning but slowly drains your energy with their 100th selfie. Seniors to selfie lover are the Social Media Birds who need to upload each pic and video then and there. Their lives are never ending stories on Instagram and Facebook.
6. Foodies
They have nothing to do with the ambience, people and distance. All they think, see, smell and dream about is food. These foodies in gang wander and suggest places, which are famous for food. Even if it takes an hour, it really does not matter; all they see is the delicious platter. If you take them to somewhere where the food is tasting bad, get ready to face their wrath. The best part to be with them is you get to taste various cuisines. My free advice is never to compete against them; they are going to win all food competitions.
7. Explorers/Loners
This bunch or individual in your group is so fascinated by the place that, they leave your/gang's side. They steal their lone moments to spend some time in peace. They need their space to explore. They look out for new experiences and jump around enthusiastically. They walk away from the bunch to breathe in fresh air and tell you stories of nature. Explorers are mostly the philosophical ones in the gang.
8. Couples
Every group has that one or two couples who love to get there space. When you enjoy the beaches and mountains, they enjoy each others company. Their hand-in-hand walks and code word chats are a centre of attention. PDA is their trademark and the world they live in is not everyone's entry. Even the Dolphins swimming near bay cannot turn their heads until someone shakes them out. They are the cutest though.
9. Drinkers
Wherever you go, Pint Beer follows. Even if you take them to the finest places, they carry their bottles.
'Beer ke bina maza nahi aata.'
They better understand what they say. The best part is that they comprehend their limits and do not drink to a point when they cannot handle themselves. Although few do. The unavoidable task would be, carrying them back. Their never-ending blabbers have a lot of secrets to reveal.
P.s: Never let your drunk friend drive.
10. Gossips
This is the right time to discuss and broadcast to reach maximum viewers. From lecturers to backbench stories they have every information. Their unlimited chats have unheard stories and there group circle is hard to intrude. Their oasis is alluring yet, not everyone can hear his or her secrets.
11. Best friends
God, there giggles, laughs and secret codes is the highlight among the gang. Even after being with more people, they have a lot of eye-to-eye conversations. Their bro code is strong and girl gang's hidden smiles are hard to decode. These best friends in gang need a lot of time than couples and gossipmongers. Although they do not walk away and spend more time with the group, they come in.
Also Read | 10 Reasons Why School Friends Are Best And You Are Blessed If You Still Have Them
Such a smile we have. Don't waste on overthinking and spend some time with friends. Those memories are valuable and irreplaceable.
What is the outing story with your gang? Do you have some more types to add which we missed? Tell us in the comments below.