Our country has had a beautiful set of historical events. Perhaps more complicated than we ever thought. Some incidents were justified, others were blamed. But above all this, it was our questions that were never addressed. Some never even realized why all of this was happening.
Let me enlighten you with some of the most striking questions that are still unanswered.
1. What was the cause of Demonetization?
We want to know why RBI is not disclosing the data on currency returned after Demonetisation. How much black money is accounted after the demonetization and how many were caught after the act because we witnessed only the ones who didn't have black money suffering the most, standing in those long queues for hours, unlike ministers and businessmen. Going cashless is perhaps a very progressive step.
But why did we have to 'demonetise' in order to 'go cashless'? Before demonetization exercise was undertaken, what measures were planned to make cashless transactions easier? So that large percentage of people who depend on cash for LEGAL activities, are not harmed? Example- daily wage labourers, small honest business-people etc.
2. Why was Gauri Lankesh killed? Who killed her? What was her fault?
Gauri Lankesh, senior journalist, and activist was shot dead by two bike-borne, helmet-clad men outside her residence in Bengaluru. Silencing people whose political beliefs are different – is depressingly common in India. In Karnataka, writers get killed for their beliefs. In Kerala, political killings are quite common [in the past 18 months,10 right-wing leaders and 4 left-wing leaders have been murdered]. In Tamil Nadu, political parties used to have an acid attack on upcoming leaders.
Wikipedia has a list of 23 journalists who were killed, and the sad part is, it says the list is incomplete. Where is our right to freedom of speech and expression fading? Why are they being killed?

Also Read | She Was Assassinated Because She Was A Supporter Of Secular And Liberal Values. 'Tolerant India' Are You Listening?
3. Why is the law not same for celebrities and wealthy businessmen?
"Minutes after he was sentenced to two years in jail in a 2003 immigration fraud case by a court in Patiala, Punjabi pop singer Daler Mehndi was granted bail." Minutes!
"A court in Mumbai has charged the Bollywood actor Sooraj Pancholi with abetting the suicide of his former partner, the actor Jiah Khan, who was found dead in her apartment by her mother in June 2013." "July 1: The Bombay high court on Monday granted bail to Suraj Pancholi, son of actor Aditya Pancholi while observing that he cannot be held solely responsible for the "impulsive" act of suicide committed by actress Jiah Khan."
And of course Salman Khan, Nirav Modi, Lalit Modi, Vijay Mallya and many more. And here we are, the common men, who get beaten up during the investigation itself.

4. Is our privacy secured with AADHAAR
"MS Dhoni's Aadhaar number and the rest of the information was leaked when he went to register his Aadhaar, as one of his 'fan' had posted all information on Twitter. When his wife Sakshi complained, the action was taken."
Now the point is that UIDAI is a central body and it has outsourced the responsibility of collecting the data to 556 private agencies. There have been 1,390 complaints against them and the proceedings took place only in the case of Dhoni.
Also, they expect us to link AADHAAR to everything, PAN card, KYC, Sim cards and what not. Why? Considering the fact that there are states like Assam and other north-eastern states where UIDAI offices for processing Aadhaar is not even set up yet.
"PAN Card, DRIVING LICENSE, PASSPORT the na? Iski kya zaroorat thi?"

Also Read | Mera Aadhaar Meri Pehchan Google Search Leaks Aadhaar Details Of Several Individuals
5.  The truth of Jayalalithaa's death
Jayalalithaa's medical condition improved a lot after her admission to the hospital but later her condition deteriorated dramatically, according to doctors treating her. Above all this, the delay in updates from the hospital lead to a chaos.
Doctors were mum about what had happened and refused to answer why it was told that the late Tamil Nadu CM was improving just before her death.
6. Who is to be blamed for the Bhopal Gas Tragedy?
Some said, Union Carbide, both the former American company and its 49 percent state-owned Indian subsidiary are to blame — for hiring and not supervising entry-level people who poured water on a smoking chemical vat, catalyzing the Carbide gas leak, which in turn harmed and killed thousands in Bhopal, Madhya Pradesh, in 1984.
On the other hand,  A few weeks before the gas leak at the Union Carbide factory, it had been granted an "environmental clearance certificate" by the state pollution control board. It was a routine clearance required by the central Government of India, and it was readily granted since, in the words of a board official, "only slight modifications were needed" in the plant's emission controls.
Who is to be blamed for the tragedy? For the destroyed lives of thousands? And above all, even when the blame game gets its conclusion, how will we undo the damage?

7. Restrictions, cuts, and the banning of Bollywood Movies
Prakash Jha's 'Lipstick Under My Burkha' was initially banned. A letter issued by the CBFC stated the reason behind its ban, it said, "The story is lady oriented, their fantasy above life. There are contentious sexual scenes, abusive words, audio pornography and a bit sensitive touch about one particular section of society, hence film refused under guidelines (sic)."
"It's a total of 13 cuts that CBFC has asked the makers of Udta Punjab to implement. Among these are references to Punjab at various places, the scene showing Tommy Singh (Shahid Kapoor) urinating before a crowd, a dog named Jacky Chain, a line which says Punjab Di Zameen Banjar aur Aulad Kanjar (illegitimate)."
Reports say the Censor Board refused certification to the film not exactly due to the expletive-laden dialogues, but due to political reasons in Punjab, which was set to hold the state elections the following year to its release.
Does Indian Media and Entertainment sector work according to the political and social scenario of a few? Do people have no right to express themselves, be it through media?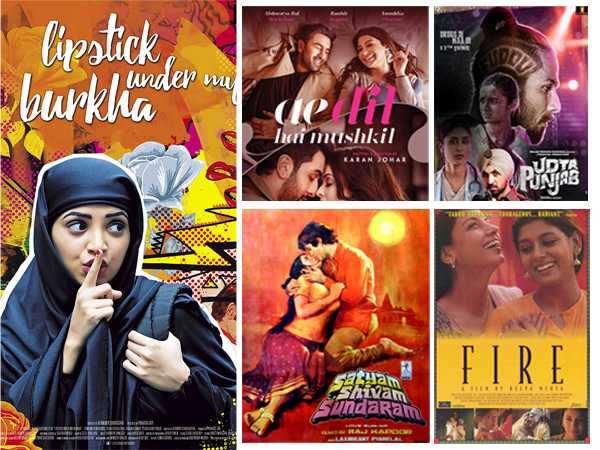 Also Read | Supreme Court Legalises Passive Euthanasia With Strict Guidelines
What do you think? Let us know in the comments below. Is there a question you are waiting to ask as well?