Predator (noun) – an animal that naturally preys on others.
That would be the meaning of "Predator" if googled. The one thing I'm going to talk about is no less than a true predator.
Fierce, sturdy, terrific yet enthralling, the 9000 dollars (around 600k INR) gaming notebook by Acer, 'Predator', raised an uproar in the field of technology. Also, it was a fun time for the tech-savvy.
What's so good about it?
It was claimed to be the world's first curved screen notebook. Its specifications blew the minds of people, for a while, yanking away the fame of other gaming laptops.
Display: Ginormous 21 inch IPS display
Resolution : 2560 x 1080
Weight: 19.4 pounds or 8.8 kilograms
Initial release: Consumer Electronics show in Las Vegas
Delectable additions: 120 Hz refresh rate and Eye tracking technology from Tobii.
Wondering about its price?
It is a $9000 gaming product. Damn, so costly!
What is Eye-tracking technology?
According to Tobii technologies, it is a technology that puts one in control of one's own device naturally using eyes. The system contains two parts, essentially –
An Infrared light source that focuses on the user's eyes.
An eye tracker or a camera that tracks the movements of the user's eyes and extrapolates the results inside the computer.
Even the number of times the user blinks his eye is also recorded along with the diameter of pupil inside the eye.
This technology, especially for the gamers, is essential in spotting their enemies or firing accurate shots.

Other Features:
Intel i7 core processor
21:9 aspect ratio
2000R curved screen
Two power supplies
Five system fans
To stay cool, it has 9 heat pipes
Speakers – 4, Sub-woofers – 2
One HDMI port and Two display ports
Dolby Audio systems
64 GB of RAM, a separate 1 TB Hard Disk and 4 SSDs
Special features:
Cherry MX Brown switches – These can be interchanged according to the user's wishes. 'A' can be at 'U', 'U' can have the place of the number '4' and so on.
Removable side panel – It can transform into two ways. One, numeric keypad. The other, a touch-pad.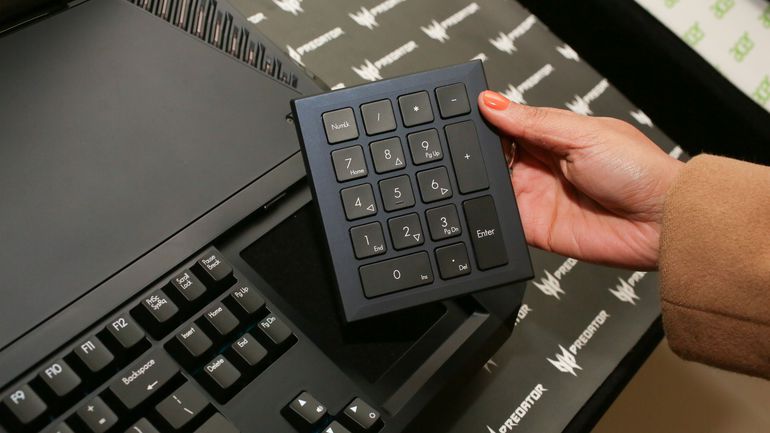 Wanna get your mind blown further? Check out this video by "Dave Lee" on YouTube, wherein, he unpacks the whole setup, eventually showing us the insides of this terrific 'Predator'.
Drop Your Views In The Comments Below