A hot favourite among the kids is Aamir Khan's Taare Zameen Par. This movie revolves around Ishaan, a dyslexic child and how he helped by his teacher at boarding school. The character arc of Ishaan's parents develops making them better at understanding their child. The movie has elements of humour and gets sentimental every now and then, sensitizing us to the needs of kids. Admit it, we have always wished for a teacher like Aamir. The bond that Aamir shares with his student have taught us a lot, alongside the dynamics of good parenting. It makes for a great watch with exceptional acting by Darsheel Safary. If you are looking for movies like Taare Zameen Par which revolve around children, we have a list prepared for you.
Rani Mukherjee's Hichki is based on Brad Cohen's 'Front of the Class'. The teacher has the Tourette Syndrome and has been allotted a class of underprivileged children in the new school she joins.
The journey of both the teacher and her students is heartwarming. She employs interesting methods of learning for her uninterested and naughty students.
You'll love Hickhi if you liked Taare Zameen Par.
This movie explores the shortcomings of the Indian education system. It stars Shahid Kapoor, Ayesha Takia and Nana Patekar and revolves around children on a school campus.
A very similar movie like Taare Zameen Par, Paathshala is a must watch with your kids.
A comedy-drama film released internationally as The New Classmate received much critical acclaim. The film explores the theme of living one's dream amidst social barriers like status.
Nil Battey Sannata got praised for depicting realism and exceptional performances by the actors.
The honesty, innocence and purity of this film stay for a while. It takes you on a trip with Partho Gupte back to childhood.
Stanley ka Dabba received a positive response from the critics and fared average at the box office.
A sports-drama, Ta Ra Rum Pum is inspired by the Hollywood movie Days of Thunder. The story's take away is that the fear of losing a loved one makes you overcome your personal fears.
The movie features Saif Ali Khan and Rani Mukherjee.
Screened at Indian Film Festival of Los Angeles, Toronto International Film Festival and Berlin International Film Festival, Dhanak garnered lots of love from the critics.
Dhanak features Hetal Gada and Krrish Chhabria as siblings.
A movie starring Partho Gupte and Saqib Saleem, Hawaa Hawaai is about an underprivileged child who has the potential and dream of becoming a skater.
Saqib acts as Arjun's coach and helps him become a skating champion. He also gets Arjun and his friends admitted to the school.
Chhotu, a poor kid, is greatly inspired by Dr. A.P.J Abdul Kalam. He changes his name to Kalam and dreams of meeting the legend. A movie that leaves you on a positive note, I am Kalam is a great watch with one's kids.
The movie gives a message very similar to Taare Zameen Par.
Sridevi's English Vinglish makes for a great family watch. It is funny and gets you emotional sometimes. English Vinglish portrays the worth of a mother and her journey to become more confident.
It leaves you on a positive note but somewhere induces guilt in your conscious for letting your mother down in ways you wouldn't know.
English Vinglish is a must watch for Taare Zameen Par lovers.
This movie is heavily enjoyed by children and leaves them with lessons in morality. Chillar Party is about a group of feisty kids and how their life takes a turn when they take a stand for one of the members whose life is in danger. Little kids are seen teaching their elders the big life lessons of equality and humanity.
A movie starring Sushant Singh Rajput and Shraddha Kapoor, Chhichhore is an important family watch. I say important because it is about parents giving their son a life lesson, relieving him of all the internal and external pressures of life. In the narration where the destination is a life lesson, the journey is filled with a fun college life. It has a good mix of humor and emotions.
An authorized adaptation of an Iranian film Children of Heaven, Bumm Bumm Bole gets its name from one of the songs of Taare Zameen Par. It features Darsheel Safary as the protagonist. The story is about a poor family where the siblings are sharing a pair of shoes. This movie watched with kids makes them realize the importance of money and to not take it for granted.
A 2010 release, Do Dooni Chaar is a family comedy drama also starring Rishi Kapoor and Neetu Singh. The movie revolves around a middle class family who dreams of buying a car while finding joys in little things.
Do Dooni Chaar is a must watch if you're looking for movies like Taare Zameen Par.
Depicting themes like feminism, social equality and domestic violence, Secret Superstar is about the journey of a teenager who is extremely talented. However, she has to hide her identity owing to her conservative family. The movie has received many awards and was a box-office hit.
Amir Khan starrer will take you back to the trip of Taare Zameen Par.
A hilarious and slightly horror film Bhoothnath is usually one of the kids' favourite movies. Featuring Amitabh Bachchan alongside 'Banku' it is a great family watch on any given day. It's a unique friendship story!
Starring Sharman Joshi, Boman Irani and Ritvik Sahore, a movie very similar to Taare Zameen Par is about a single dad raising his very talented son. Kayo (played by Ritvik) is a great cricket player but due to unavailability of funds, a series of fun incidents follow.
It is another great family watch.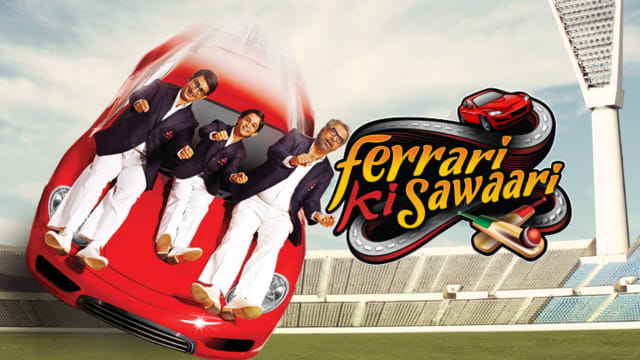 A movie about an orphan Karan who turns out to be an exceptionally good cricket player, Chain Kulli Ki Main Kulli is a sports comedy film. Children love this movie, majorly because of humour and a simple fantasy story.
One of the highest-grossing films starring Aamir Khan, Dangal is about India's most gifted female wrestlers- Phogat sisters. With amazing cinematography, screenplay, acting, storyline and whatnot, the movie was a great commercial and critical success.
I am sure that next time you have to spend time with a young cousin or bond with your family over a movie you'll refer to the list above.
If we missed out on any movies like Taare Zameen Par, let us know in the comments below!
Also Read | 37 Movies Like Drishyam To Watch If You Like Bollywood Suspense Movies