Are you a die-hard romantic who just brushes reality to one side and looks at movies of the romantic genre as an escape? Then, my dear, you have come to the right place! Watch your dreams on your screen when you're wide awake with these romantic shows while your harsh college life makes you want to sleep. Experience the magic of love in between assignments, practicals and exams. Here are some of the best college romance movies portraying college students falling in love and the story that follows.
There are many Hollywood movies based on high-school love which is the American equivalent of college romance in Bollywood. In this list, we have put together the best of both worlds.
19 Best College Romance Movies a student could binge on!
1. Main Hoon Na
This Bollywood classic starring Shah Rukh Khan has given us some iconic moments and music. This movie is set in a college where Raj (Shah Rukh) is an undercover agent. The sweet love of Sanjana and Lucky gives us the cutesy feels.
2. Half Girlfriend
This movie is based on Chetan Bhagat's very famous novel Half Girlfriend. This is a love story of Madhav (Arjun Kapoor) and Riya Somani (Shraddha Kapoor) who are young college go-ers. This one is a highly dramatic story of two love birds.
3. Mohabbatein
Starring Amitabh Bachchan and Shah Rukh Khan, this movie is hands down one of our favourite love stories. Raj Aryan (Shah Rukh Khan) has three students named Sameer, Vicky and Karan. Each of them falls in love and has a different struggle altogether. Raj (their teacher) encourages them to pursue their love and be fearless. All this takes place in Narayan Shankar's (Mr. Bachchan) gurukul which is known for the strictest rules and customs.
4. 10 Things I Hate About You
This is hands down a perfect high school romance. A girl and a guy are slowly falling for each other, all for a bet. (Only the girl doesn't know it yet.) Two stories of two sisters run parallel and yet are intertwined in some way. It's comic and cute. You sure are going to drool over the chemistry and want the same for your self.
5. Love Simon
One of the most critically acclaimed love stories, "Love, Simon" is not your regular rom-com. But it is, in a way. The film is about Simon who identifies as gay and still hasn't told his family and friends. The movie normalises for people of all sexualities to have a lovely love story.
6. Kissing Booth
The 'popular guy and dork girl' cliche combined with 'I can't see my bestfriend's brother' makes this one a perfect rom-com. The kids are in high school with the usual teenage stuff happening. It's still somehow a beautiful escape.
7. To All The Boys I've Loved Before
Aired on Netflix, this rom-com's first instalment is titled 'To All the Boys I've Loved Before" and has two sequels following. In 2020 came "To All The Boys: P.S. I Still Love You". We're expecting another one titled "To All The Boys: Always and Forever, Lara Jean". It revolves around the cliche of a sporty popular boy hanging around with an introvert nerd. But Peter and Lara Jean share the most magical love and we can't get over it any time soon!
8. Student of the Year 1 & 2
These typical Bollywood masala movies lack a little plot but make for light entertainment. In both movies, we see the dynamics of love triangles changing with every situation. Despite the unrealistically luxurious lifestyles portrayed in the films, we get a glimpse of how in college, the meaning of love changes from being materialistic to more real.
9. High School Musical
One of our favourite series from childhood, High School Musical has been an apt depiction of the crazy world school and colleges could be. The series has literally taught us to stick together and trust the person we love because admit it, everyone else is really just mean. It has shown us how to stand up for ourselves and others we believe in (true friends).
10. Kuch Kuch Hota Hai
Bollywood's favourite love triangle has been Rahul, Anjali and Tina ever since 1998. While we do agree Rahul and Tina had a hot chemistry together, but deep down we know Rahul and Anjali were made for each other. This movie is the sole reason why so many friendships today end up in relationships. And yes, that's a great thing!
11. Candy Jar
Another movie you can watch on Netflix, Candy Jar is a story of two highly competitive high school students preparing for college. There's not much 'romance' per se in this, but it sure is a cute story.
12. Mujhse Fraaandshp Karoge
The movie is about 2 guys and 2 girls who fall in love with a series of ups and downs in the background.
13. Jaane Tu… Ya Jaane Naa
College bestfriends Jai and Meow never accepted their love for each other. The whole college would know it, but they wouldn't. Hence destiny decided to give them little flavour of separation to make them realise their true feelings.
14. Yaariyan
This movie is about 5 friends in college and the adventures life has in store for them. It is a romantic drama and worth at least one watch.
15. 2 States
Based on Chetan Bhagat's famous novel with the same name, 2 States is his own love story. It is about how two people come from totally different parts the country only to fall in love with each other. Ananya and Krish live the typical college couple life as they sneak into each other's hostels. It is an entertaining watch!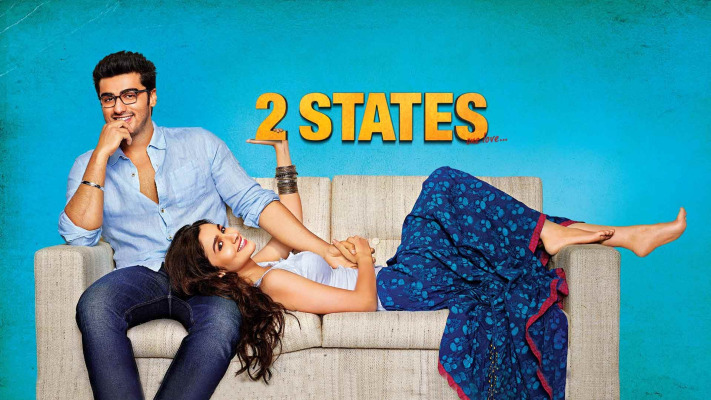 16. The DUFF
Another rom-com with tones of cliches- sporty guy, nerdy girl, mean girl is the ex and this list goes on. It is an interesting escape for once with a happy ending.
17. 3 idiots
Not primarily a romantic movie, 3 idiots is about three friends who have their own antics while surviving engineering college. Rancho happens to fall in love with the dean's daughter. Their's is a funny little story which doesn't make it cringy for us as audience.
18. Wake up sid
As college ends and Sid has still no clue about his future, he meets a mature lady who is older to him. She stands by him in his tough times as he did for her before. Eventually, living together as friends and then separating, makes them realise their love for each other.
19. Kabhi Khushi Kabhie Gham
This family drama briefly shows how Pooja and Rohan, two youngsters in King's College, London fall for each other in the quest of reuniting their family.
I hope you would watch these movies for an easy escape and dive into the magical feeling of love!
Also Read | 22 Bollywood Movies To Watch With Siblings
If you think we missed out on amazing college romance movies, let us know in the comments below!