Books are our best friend. They never complaint for anything nor do they demand anything. If you are a book junkie, then this post is definitely for you, my friend. Here are some really good books you must read once in a lifetime.
1. WINGS OF FIRE by Dr. APJ ABDUL KALAM
It's an Autobiography of Dr. APJ Abdul Kalam, former President of India or we can say the Missile Man. This book in itself is immortal. I guess words can't explain it. The most inspirational book I have ever read. It's about the life, success, failures, hardwork, fortitude and efforts of Dr. Kalam.It is one of the 5 Books You Must Read once in a lifetime as this book gives a lot of positive vibes and motivation.
2. BRIDA by PAULO COELHO
Also Read | 11 Mind Blowing Books That Will Influence You To The Core
We cannot doubt on any of the novel by Paulo Coelho. From each and every novel of his you are definetly gonna learn something. Brida'O fern, a 21 year old Irish girl is in search of someone who can teach her witchcraft and magic so that she can unreveal the hidden secrets of the nature and world. In her journey she met Magus, a magician, who fall in love with her and a old wise witch from whom she learnt a lot.
During her entire journey she learns a lot about life, difference between fear and danger, love and lust, about relationships and how to dance on the music of the world. In this journey she get connected to her true self and her soul very deeply. The book is beautifully written with a fascinating story. This is one of the 5 books you must read once in a lifetime.
3. PRIDE AND PREJUDICE by JANE AUSTEN                                                                    
Also Read | 10 Productive Things To Do When You Are Bored
It's a romance novel by Jane Austen. The story revolves around  the protagonist Elizabeth Bennet and Mr. Darcy. Opening line of the book is fabulous "It is a truth universally acknowledge that a single man in possession of a good fortune must be in want of a wife."Elizabeth has 4 more sisters, the property owned by his father was entailed so none of the girl can inherit it. Story explains the necessity of marrying for love and not for profit. This story fascinates the readers of modern era. It's a classic novel with a perfect story-line. This is one of the 5 books you must read once in a lifetime.
4. THE SECRET GARDEN by FRANCES HODGSON BURNETT

Basically it's a novel for children, but with a beautiful and deep story-line it wins a millions of hearts.The story revolves around a 10 year old girl Mary Lennox who was an unwanted kid of her parents. She was born in a rich British family in India. Her parents die due to Cholera Epidemic. After which she was sent to Yokshire in England with her uncle where she found a SECRET GARDEN which changes her panorama. This is one of the 5 books you must read once in a lifetime.
5. EVERYONE HAS A STORY by SAVI SHARMA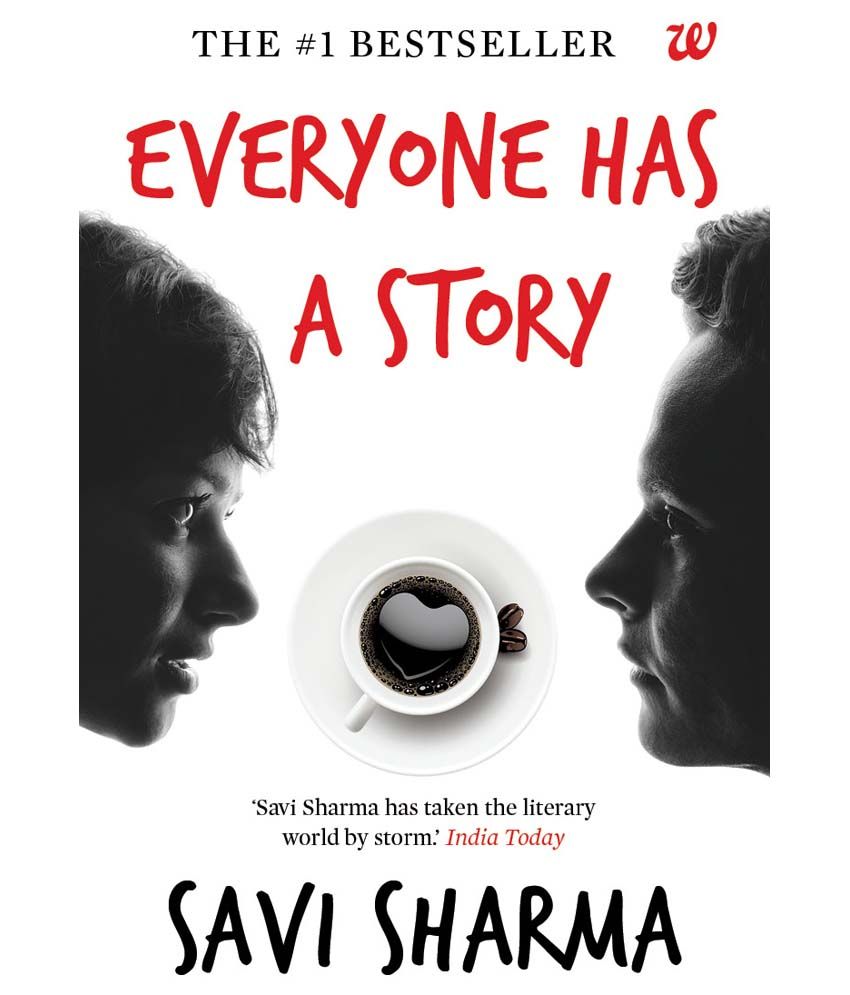 Everyone has a story (EHAS) is one of the best selling novel of 2016. Opening line of the book is itself the explanation of the entire book "Everyone has a story to tell. Everyone is a writer. Some are written to books and some are confined to hearts."This book revolves around the story of 4 individuals and how it is interlinked to each other. Meera, Vivaan, Kabir and Nisha. Meera was a budding writer who was in search of a story which can touch millions of lives. She found her story in Vivaan an assistant branch manager at citibank and wants to travel the whole world. But, Vivaan makes Meera realise that everyone has a story to tell.
He makes her realise that her story lie somewhere in Kabir who has a dream to own a cafe someday in future. Nisha, the despondent cafe customer who keeps secret of her own was the girl whom Kabir was in love with.
This story will make you believe in your dreams. A really good book with a perfect lesson. This is one of the 5 books you must read once in a lifetime.
This Was Our List Of Books You Must Read Once In A Lifetime. Share Your Views In The Comments Below.